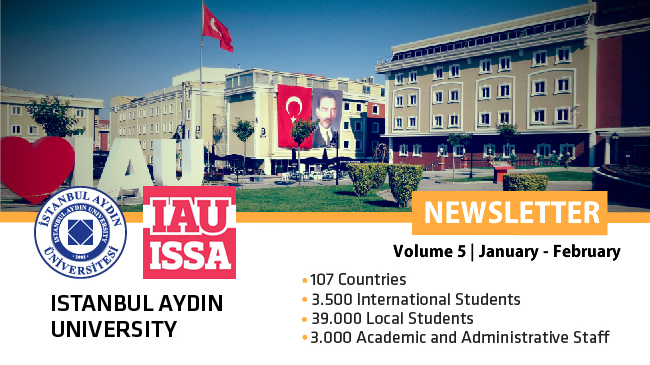 Istanbul Aydın University officials offer freshman admission to more than 10,000 high school students for 2017-2018 academic year. IAU has been the most preferred foundation university for the last 8 years among local and international students in Turkey. IAU is a worldwide recognized university that has higher education agreements with 450 universities. IAU welcomes students with its 3 Institutes, 16 Faculty & Vocational Schools, 165 Application Laboratories and 30 Research Centers in one Campus.
CAMPUS
Aydin University Leading in Education Export

Istanbul Aydin University Pioneer in Education Exports this Year
Turkey Exporters Assembly (TIM) "Turkey's 500 Largest Exporter of Services" have found their awards at the award ceremony organized by the survey. The second prize for exports in the field of education were given to Istanbul Aydin University (IAU).
Finance Minister Naci Ağbal, Economy Minister Nihat Zeybekçi and Minister of Customs and Trade Bülent Tüfenkçi participated in the awards ceremony including ministers and leaders from different sectors. In different categories, the first-third prize-winning firms were awarded. Istanbul Aydin University were the Second prize winner in exports of Turkey in the field of education.
For further Information in Turkish Language : http://www.aydin.edu.tr/haberler/Pages/egitim-ihracat-odulu.aspx

WSEC 2018 ISTANBUL



Istanbul Aydın University (IAU) and The International Council of Associations for Science Education (ICASE) organize the World Science Technology Engineering and Mathematics (STEM) Education Conference in order to bring all stakeholders together (universities, research institutions, civil society organizations, SMEs, public bodies, science centers etc.) to promote STEM education around the world
http://www.worldstemed.org/
Istanbul Aydin University selected ''Best University'' in 2017
Dr. Mustafa Aydın : Aydin University's Selection as ''Best university'' in Europe, means Turkey's success.
The European University Sports Association (EUSA), an international organization, announced that Istanbul Aydin University is the 'Best University in 2017'.
European University Sports Association (EUSA), in the invitation letter that was sent to Turkey University Sports Federation, Istanbul Aydin University was chosen as the "best university" in 2017 and in this context, it was invited to the "Gala Ceremony" which will take place in Madrid, Spain on April 12-14.

For further Information: https://www.aydin.edu.tr/haberler/Pages/iau_en_iyi_universite.aspx
ECOWAS CONFERENCE
TURKEY- AFRICA BUSSINESS & ECONOMIC CONFERENCE


Turkey's "win-win" approach towards Africa has culminated in the burgeoning economic relationship between the parties. This policy focuses on political equality, transparency, sustainability and mutual economic development.

The Forum will provide a platform for the business circles from ECOWAS countries to meet with their Turkish counterparts to develop new partnerships which aims to build together, produce together, sell what's produced together and share the profit.
For further information: http://www.tebforum.org/welcome-letter/
TURK-ARAB UNION CONFERENCE

Third joint Turk-Arab Union conference has been successfully organized at Istanbul Aydin University on 13-15 February.
More than a hundred Arab Union member university's rectors, board of trustee presidents, AARU Secretary General Dr. T.Aladw Sultan Abu- ORABI has been welcomed in opening ceremony by IAU's board of trustee and Eurasian University Association President Dr. Mustafa AYDIN, Dr. Yadigar İZMİRLİ rector, the former EU Minister Egemen BAĞIŞ and Küçükçekmece's Governor Harun KAYA, academicians and students.
For further Information: https://www.aydin.edu.tr/haberler/Pages/iau_turk_arap_universiteler_konferansi.aspx
EURIE-ASIA HIGHER EDUCATION SUMMIT 14-16 FEBRUARY 2018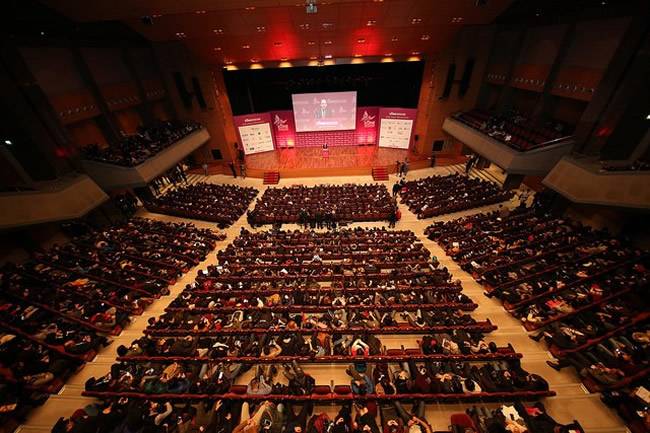 EURIE 2018 – Eurasia Higher Education Summit repeatedly achieved a great success on 14-16 February, 2018                           
EURIE Summit repeated its success this year by hosting 2.600 attendees from 71 countries with a great variety. On 14-16 February, 2018 150 Exhibitors took place with their booths where there were the highest level of representatives of higher education institutions, private companies, general consulates and other public / official institutions and organizations. It was an honor to host each attendee who had contributive participation at EURIE 2018 in Istanbul at Lutfi Kırdar Congress Center on 14-16 February, 2018.
International label Design Competition
İstanbul Aydın University won the first position in International Label Design Competition.


AYDIN TÖMER


The Turkish traditional theater mixed with cultures, traditions, customs, and fed from religious beliefs has been cultivated for centuries. Every value that emerges from the root of a nation is valued as its opposite. Hacivat and Karagöz has emerged as a light comedy (traditional improvised theatre) and has been continued as a shadow –show later on. The real characters who are thought to have lived in the 13th century continue their lives as typical Anatolian people and it has become a form of core in the form of a natural art source that does not have to be developed in particular. As Aydin TÖMER we organized a very important traditional Turkish Karagöz and Hacivat show for International students learning Turkish language. The objective of this program to share and illustrate the Turkish culture.
STUDENTS AND ALUMNI
Testimonials
María Fernanda Cruz Arroyo-Mexico, Business Finance - Master in business administration
One of the aspects that I most enjoyed at IAU is the diversity that exists in its students. Going to classes was like traveling every day to a new country. Meeting people from all over the world on a daily basis makes you grow personally.
Istanbul is a magical city, with opportunities to get to know the most interesting historical centers of the Ottoman and Byzantine culture, to visit the most modern neighborhoods in Europe.
From the moment I arrived until the last day of classes, I had the support of the international student office; the people in the university are incredibly kind and eager to help. I was for 3 years at AIU and I never had a dull moment.

Iman Khaldoon Hussien - Jordan- Business Administration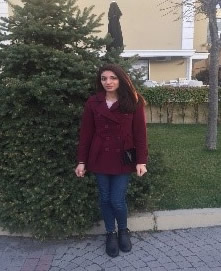 I started studying in IAU at 2016, since I came here I found a very welcoming atmosphere, the lecturers were very helpful and always ready for us as foreign students.
I came here because I wanted a better education and some new opportunities so I heard that IAU is one of the best universities here in Turkey and what I heard wasn't wrong actually I experienced that by myself.
I am so happy that I came here and found such a good, comfortable and welcoming environment, it was the best two years here and I hope that the best will come.
SUCCESS STORIES
Oidin Akhmejanova- Kazakhstan- International Trade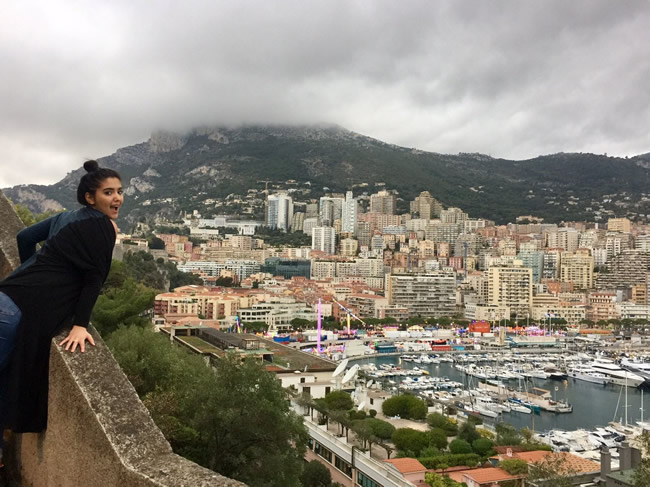 Erasmus exchange program is the great opportunity for the students who wants to open the door for millions of new unforgettable moments.

When I learned that our university has this program I was so excited and I started to search for the information about Erasmus. I think no one wants to miss this kind of chance. So I immediately applied for the program and was waiting for the results. I had many obstacles on my way while doing paper work, visa and other stuff, but I didn't give up just because it was such an opportunity for me to explore Europe and to gain new experiences.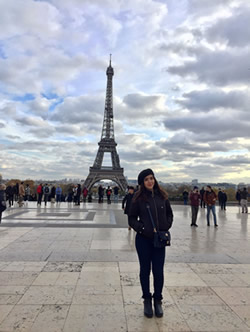 It was my first time to go to Europe so I was kind of afraid. But despite all, I wanted to see and experience everything by my own.
Belgium- country where I did my Erasmus it is the heart of Europe with the best chocolate, beer and an unbelievably delicious waffles. I had many obstacles on my way while doing paper work, visa and other stuff, but I didn't give up just because it was such an opportunity for me to explore Europe and to gain new experiences.
The most important part about Erasmus is the university itself. Local students, Erasmus students from different countries and their cultures. All these aspects were so interesting for me from the very beginning you start your new life. Another great side of my Erasmus was that I had possibilities to visit many countries and cities I was dreaming about. Countries such as France, the Netherlands, Germany, Luxembourg.
FACULTY
DELIGHFUL ISTANBUL WINTER SCHOOL
Istanbul Aydin University, International Short Term Study Programs Office organizes, chooses and announces short-term study programs such as summer or winter schools, educational camps, short-term language training courses for both incoming and outgoing students.
Delightful Istanbul Summer School is a two- week study and fun program.
Delightful Istanbul winter School hosted students from seven different countries; Russia, Netherlands, South Korea, South Cyprus, Indonesia, Malaysia, and Pakistan. 26 students from different continent had an amazing sightseeing, fun and experienced diverse culture through their short term study programs.

Delightful Istanbul winter School hosted students from seven different countries; Russia, Netherlands, South Korea, South Cyprus, Indonesia, Malaysia, and Pakistan. 26 students from different continent had an amazing sightseeing, fun and experienced diverse culture through their short term study programs.
For further details:
http://www.aydin.edu.tr/en-us/international/shortterm/incoming/Pages/Delightful-Istanbul-Winter-School.aspx

www.delightful.istanbul
ACTIVITIES AND EVENTS
March: ISU Presidential Election March: 2nd International Futsal Tournament
March: Coffee Hours  March: Country Representative Election
March: Jenga Tournament                                            

What is International Student Union?
ISU is committed to assisting international students to become part of Istanbul Aydin University (IAU). ISU serves to promote cultural understanding through activities aimed at expanding cultural awareness.
International Student Government at Istanbul Aydin University (IAU) is committed to tirelessly advocating on behalf of the international student body, enhancing the entire student experience and promoting the image of the University and its students by upholding ourselves to the higher standards, leading with integrity and selflessly serving the University and beyond.
It equally aims at promoting the cultural diversity that international students bring to IAU. An open platform is our motive to encourage students share, exchange and appreciate each other's culture, and above all looking into student's problems and enabling them have a suitable atmosphere on campus.
Students will have access to the  Application form for Presidential Election of International Student Union on 05.02.2018 from ISSA website.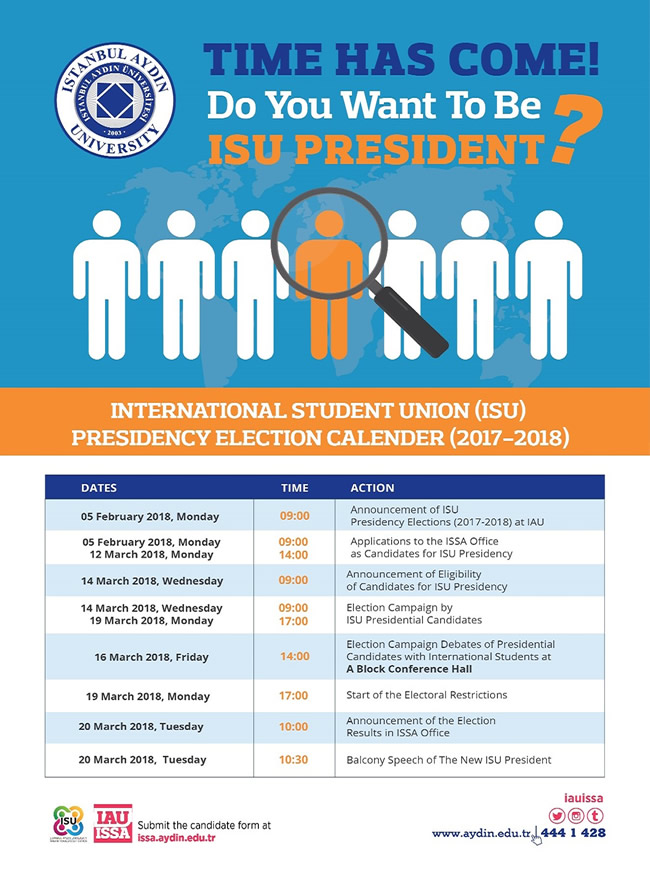 For further information: www.aydin.edu.tr/en us/international/issa/Pages/index.aspx/
2ND INTERNATIONAL FUTSAL TOURNAMENT HAS BEEN STARTED ON 02.03.2018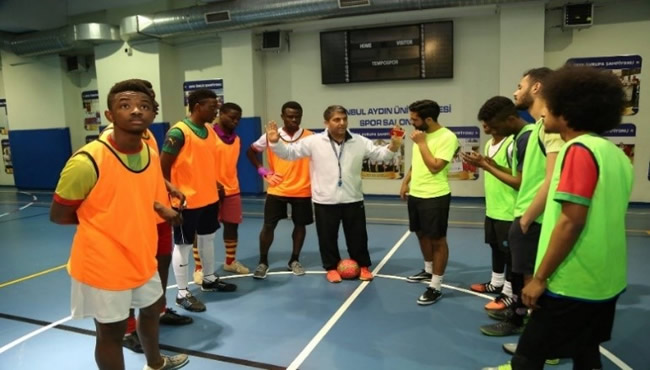 Our second International Futsal Tournament will be more competitive this time by competing more than 24 teams among our International students at our sport complex. The competition will start as group stage including four teams in each group, after group stage the knock out stage will be more exiting by each country representing their teams. At the end of the competition the winner and runner up team will be given their cup and prizes.

COFFEE HOUR
The first coffee hour of 2017-2018 semester held in Istanbul Aydın University with participation of Mehdi BASHIRI who is a successful Inventor. Mehdi BSHIRI is an Iranian student studying Dentistry faculty and he is the head of Invention Club at Istanbul Aydin University. Mehdi has enormous achievements by participating more than 23 scientific projects across Europe and Asia and honored with more than 10 golden, silver and honorary awards.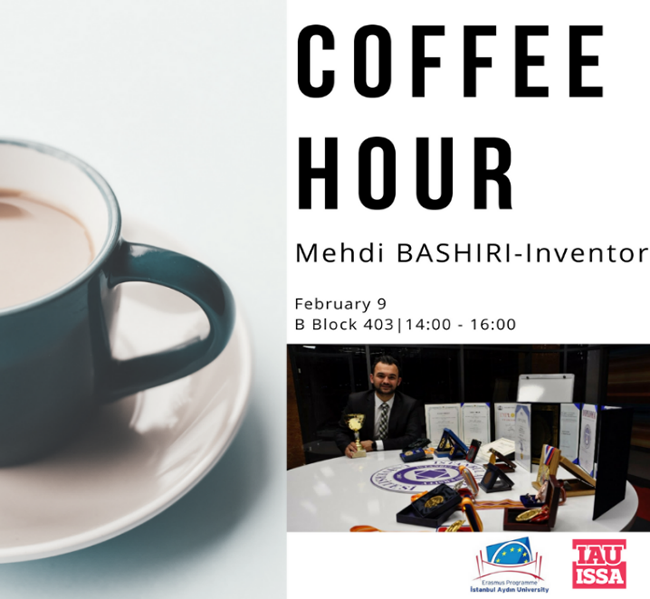 7TH INTERNATIONAL CULTURAL DAY
ISSA is hosting and Organizing International Cultural day events every year with 106 countries are joining the diverse cultural events at Istanbul Aydin University. Students from different countries representing their traditional foods, customs, national songs and dances with each other.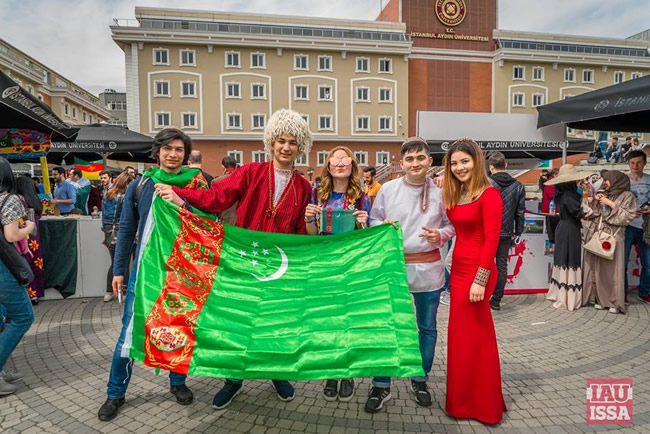 SPECIAL BREAKFAST WITH KIDS
As ISSA Team and some of our internatiol students, attended the "Special Breakfast with the kids" in IBB Deniz Köşk Meeting Center in Istanbul on 3rd of March, Saturday. More than 300 kids attended the event and there has been activites for kids such as Hacivat & Karagoz, dancing, face painting, clown show, puppet show and etc. The event held for down syndromed, abondoned, refugees, disabled kids.  
IMPORTANT INFORMATIONS
Other successes in sport field:
2017 UNILIG TENNIS WOMEN-MEN TURKEY CHAMPIONS
2017 TURKEY TENNIS WOMEN CHAMPIONS
2017 TENNIS CHAMPIONSHIP MEN LANDED IN THE SECOND PLACE
2017 TUSF WOMEN'S VOLLEYBALL TURKEY'S NATIONAL CHAMPIONS
2017 TUSF MEN'S VOLLEYBALL LANDED IN THE SECOND PLACE
2017 TUSF SNOWBOARD TURKEY LANDED IN THE SECOND PLACE
2017 TUSF SNOWBOARD ISTANBUL CHAMPIONS

80.000 Solution Partners
We have over 80.000 solution partners that we are partnership with. The most famous and collaborative are as follows:
THY TEKNIK
SHELL
LC WAIKIKI
MEDICANA
MERCEDES- BENZ
KONE
HATEM OĞLU
GÜMRÜK ISTANBUL
CARREFOUR-SA
ADALET BAKANLIĞI

> Please do not forget to apply for your residence permit in Turkey.
> Importance of getting health insurance and renewing it on time.


Work placement lesson is between weeks 12 February- 18 May. Our students must enter the information of companies and work placement days until 17 February- 23:59. (Work Placement tab in your UBIS)
For work placement you must take an appointment with phone before you go (There is no obligation that the company approve you, first you need to call.)
First impression is very important, be careful appearance, promptitude, hygiene etc… You must represent yourself and the university in the best way.
Students which are guided by our Career Center, will complete their work placements in the companies they are sent. (there will be no change of company
 STUDENTS ADVICE

* Be care about the importance of Work Placement
* Show respect your company
* Don't forget that your company brighten your career.
* Be sociable, curious and inquisitive.
* Do not hesitate and contact.
*Meet people and introduce yourself.
*Places you've been considering the busy schedule, without waiting for the deal with you and make you work for yourself exactly.
* Do not forget to Show yourself and your potential
* If you don't show yourself, no one can see you
* If you encounter negative or indifferent attitude of people to take over and stand on.
* You are there for learning and improving yourself. Do whatever you need
* Obey the rules. Incompatible, do not be irresponsible and irrelevant.
* Do not be late, never be absent from there.
* Do even more than the so-called structure called immediately.
*Be positive and smile but do not be flippant, never to be unbuttoned.
*Take care of your clothes and your image.
*In an effort to exhibit the best of yourself and your performance.
INTERNATIONAL EVENTS
Symposium on Being International Student in Turkey
International Symposium on Altay Communities
IAU Children University Summer School
II. Halit Aydın Science and Research Awards
3rd International Congress on Education, Distance Education and Educational Technology
The 18th International INGED ELT Conference Hosted by İstanbul Aydın University
2017 Graduation Ceremony was held on 11th June 2017. IAU made a path for 7800 students to the business life from 44 different countries.
This year 170 International Students have been graduated from IAU. IAU Organized a BBQ Party for IAU International Alumni to share their experiences and memories about IAU